Ardahan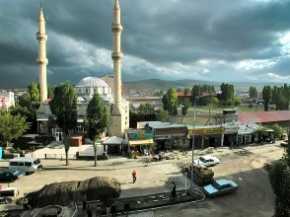 Ardahan city is the capital of Ardahan province situated in the northeastern parts of Turkey (Eastern Anatolian region) and is the smallest and the latest addition to the list of provinces in Turkey. With a geographic situation atop a plateau that rises to 1959 meters above sea level, Ardahan can boast of some amazing climactic strangeness.
History of Ardahan
The history of Ardahan can be traced back to centuries before the birth of Christ to 8th century BC. A group of settlers known as the Cimmerians settled in the region around the Cildir Lake in Ardahan. The events of the years immediately following this period are relatively unknown until about the year 1069 AD when the Seljuk Turks annexed the ancient town headed by Sultan Alpaslan. The Ottoman Empire strengthened its foothold on the town in only about 1551.

However, recent scientific discoveries indicate an earlier date of settlement dating back to the Ancient Age and even to the First Bronze Age (3500-2000 BC). It was ruled by the Med's, which was followed by a Persian rule and a simultaneous Roman and Byzantine rule as well, the Seljuklians followed them.

The name Ardahan echoes of lost romance waiting to be discovered, of mysteries lurking within its confines and of surprises thousands of years old. Moreover, it is quite off the beaten track and is relatively unknown to most tourists; hence, you can enjoy a nice time away from the crowd that is the bane in so most tourist spots.