Artvin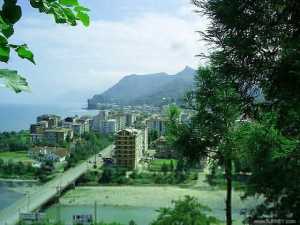 Artvin is the capital of Artvin province of Turkey and is situated at a height of 550 meters on the Coruh River on the Black sea coast. It has a highly mixed population of 25000, as per the 2004 census, consisting mainly of Georgians, Kurds and Lazes. It is a rough-and-ready town of hardy mountain farmers living on limited agriculture and cattle raising. Their pretty, little wooden houses dot the hill sides adding to the charm of the place

Artvin has a wet Black Sea Coast climate but the summers are mild. However, its natural beauty and resources, generously served, makes it an unforgettable tourist destination.

The origin of Artvin is traced to the Bronze Age of 3000 B.C. It was settled by the Persians, Romans, Byzantines, Georgians and Armenians. Later came the Seljuk, Timurid, Safevi and the Ottoman periods. It came under Russian rule at the end of the Russo-Turkish war in 1877. In 1918, it was returned to Turkey.

To see nature at its wildest, casting its spell on you through its wild rivers, virgin forests and lofty mountains, come to Artvin. The bullfights, the nature walks and the glimpses of history will give you an unforgettable experience.