Hot Air Ballooning in Turkey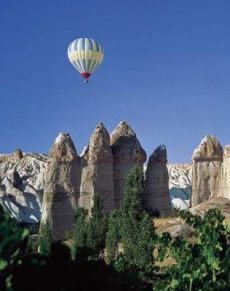 The sights and sounds of Turkey do not end with the Hagia Sophia, the Topkapi Palace or taking a stroll down the lanes of the Grand Bazaar or being pampered in a hamam. It is a land of breathtaking and diverse natural beauty with the Asian quarters mostly covered with mountains and the European side, largely a plain land. Hot air ballooning is a rage among the tourists visiting the country, who prefer to take off into the wilderness on it.

While in Turkey, for those who prefer a peaceful sightseeing tour, where you get a bird's eye view of the sylvan surroundings, then hot air ballooning is definitely an option. It is guaranteed to bring out the poet in you.