Beaches in Turkey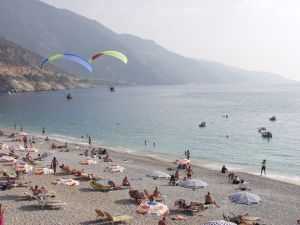 Turkey, the name conjures up images of stately palaces, grand mosques, exquisitely woven carpets, hamams or Turkish baths where you are pampered with aromatic oils and scents and exotic belly dancers. Beaches are usually the last things on your mind when on a visit to Turkey.

For the uninitiated, Turkey, being surrounded by the Mediterranean Sea on the south, the Black Sea on the north and the Aegean Sea in the west, happens to be dotted with breathtakingly beautiful beaches.

Beaches in Turkey tend to be underrated. But given the beach activities available, the picturesque beauty, the historical treasure troves that they are and the wide ranging accommodation packages, the Turkish Beaches can give any Acapulco or South Beach, a run for their money.