Burdur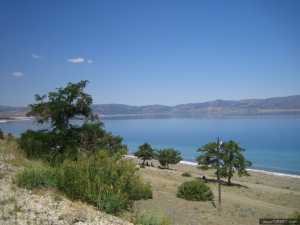 Burdur, also known as Buldur, a town of 70,000 inhabitants, is the capital of Burdur province of Turkey. It is a small province in the hinterlands of the Anatolian region of Turkey and therefore does not have a coastline.
The region produces textiles, rose oil and copper products. Burdur is well known in Turkey for its carpets and kilims as well as for its natural beauty and history.
How to Reach
Burdur province is connected by road to the Aegian and Anatolian region

It is connected by rail to Istanbul, Ankara, Denizili, Izmir and Isparta. Railway tours can also be arranged with schedules that suit you. Burdur is the terminus for the North bound railway connecting the town to Afyon 200km to the north and Eskisehir 350km to the north.

By air you can fly to Isparta Suleiman Demriel Airport, which is 25 kms from the city center.

Brief History
The history of Burdur goes back 8000 years. In the 12th century it fell under Seljuk rule. In 15th century the Ottomans took over the place.