Camel Wrestling in Turkey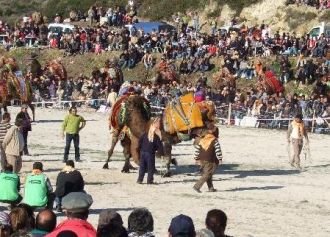 If you want to escape the British winter for sunnier climes, you should definitely consider heading to Turkey in January, in time for the famous camel wrestling championships.

Selcuk, where the competition takes place each year, is situated in the Aegean region of Turkey, around 70km from Izmir.

If you´re hoping to have a cheap trip to the country, perhaps you could consider checking out a tent sale before going, then you could pitch up your tent somewhere like the Garden Motel & Camping complex, which boasts grassy ground and family entertainment on site.

Camel wrestling, while billed as a blood-sport which rivals bullfights, cockfights and hunting, is, in reality, somewhat less ferocious.

The animals are saddled with elaborately decorated regalia and are paraded through the villages around Selcuk, with their owners showing the beauty and strength of their camels before the wrestling begins.

All the camels are bred especially for the sport, so they´re extremely bulky and their appearance would imply a good performance will be put on.

However, when the actual event takes place, the fighting takes the form of a little bit of butting and some pushing, until one of the bulls runs away, so the other is crowned the winner.

It takes place during breeding season, so the animals are spoiling for a fight, as they would normally be attempting to find a female at that time of the year, so there´s a fair amount of pushing and shoving involved, but it´s not the gory affair of many other sports of a similar nature.

The camel wrestling championships are definitely worth taking a look at, not least because the sport is in danger of disappearing sometime soon, since the number of participants seems to drop each year.

So if you´re looking for a New Year getaway, Selcuk should definitely be high up on your list.