Corum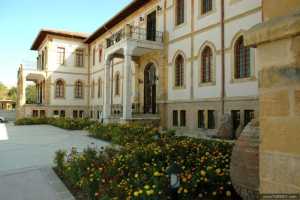 Corum, a city of 170,000 inhabitants, in North - Central Turkey is the capital of Corum province. The province, which has a population of 600,000, lies on the edge of a fertile plain.

Modern Corum is well known for its hand spun and woven textiles, copper utensils and leather products. It is an important trading mart for the agricultural produce of the countryside. Chickpeas eaten roasted are its best-known product. The city became important due to its strategic location on the trade routes between Anatolia and the Black Sea region.

The region lies partly in the Anatolian and partly in the Black Sea coastal region. The climate is mainly Anatolian terrestrial, tempered by the mild Black Sea climate. The summers are therefore hot and dry and the winters very cold. May to October is the best time to visit the place.

Corum is 300 kms from Ankara in the west. There are frequent bus services between the two cities. Buses also ply frequently between Corum and Samsun 150km to the north East on the Black Sea coast. Mini buses ply daily between Corum and Alacahoyuk.

Corum is the best place to make a stop over if you are traveling from Ankara to the Black Sea coast and do some sightseeing.