Extraordinary Sights To See in Turkey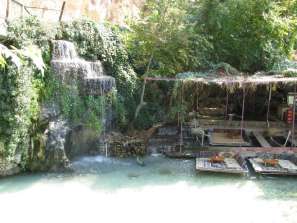 If you love spending time in interesting countries while on holiday, then Turkey is a great place to visit. Of course, you have the usual resorts and beautiful beaches that you find in many holiday destinations, but there are some more intriguing places to visit too.

Here's a little taster of what Turkey has on offer: Saklikent is the longest and deepest gorge in Turkey and it's in the Mugla province. The water is icy cold year round as the sun never reaches it due to the depth of the gorge. You can explore the gorge on foot and there are facilities including bars and restaurants nearby. There are even some treehouses to stay the night if you fancy a night under the stars.

The world heritage site of Pammukale – otherwise known as Cotton Castle – is in the Denizli province. The site was created by hot water containing calcium bicarbonate flowing through the area. As the water cooled, it created white calcium deposits that gradually formed all the ridges and steps. People come to bathe in the hot springs here for health benefits, and the water is also potable.

One of the most famous cities in the world is Troy, and you can visit the 4000 year old city in the Canakkale province and see the ruins where the Trojan War is reputed to have taken place. There is a replica of the Trojan horse to visit. Until it was unearthed in 1873, people had believed that Troy was a mythical city. It is now a world heritage site.

The fairy chimneys of Cappadocia in Central Anatolia are really worth a visit. It's a moon-like landscape which was formed by volcanic eruptions millions of years ago. In the area, there are many underground cities and churches and monasteries carved into the rock. A great way to view the Cappadocia landscape is by hot air balloon so that you get the best view of the amazing scenery.

Of course, there are many other fascinating sights to see in Turkey. It's a great place to visit and combine some time on the beach with some interesting excursions to explore some of the history of this amazing country. If you're an independent traveler it's easy to book cheap flights to Turkey and arrange your own accommodation rather than be restricted to a package holiday choice.