Geographical Regions of Turkey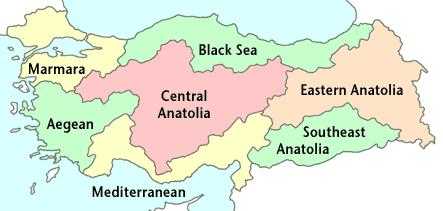 Turkey, bounded by four seas on three sides, spans a relatively large region in Asia and Europe. The First Geography Congress, convened in Ankara in 1941, divided Turkey into seven geographical regions. The regions were divided in keeping with the principles of geography - with the chief deciding factors being the topography, the climate, the vegetation and the agriculture of the respective regions. Life-style factors of the inhabitants like their food habits, housing, clothing and transportation systems were also considered.
Four regions were named after the seas bordering them - the Aegean Region, the Black Sea Region, the Marmara Region and the Mediterranean Region. The other three regions were named in accordance with their location in the whole of Anatolia - Central, Eastern and Southeastern Anatolia Regions.
PS. The pictures of the regions of Turkey in this part are taken from
Burak Sansal's All About Turkey website
. We want to thank Burak for giving permission to use the pictures.