Giresun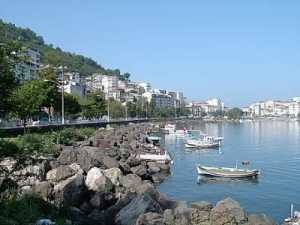 In the North east of Turkey lies a town named Giresun, capital of the Giresun province that is situated along the Black sea and is 100 miles west of Trabzon. A place governed by sudden climactic changes, Giresun is the original birthplace of cherries. In fact the English word 'cherry', the Italian 'cerasa' and the French word 'cerise' are all derivatives from the ancient name of 'Cerasus' of this Eastern Black sea region. The earliest export of cherries to Europe from Giresun took place in the Roman times, which only indicates how old the city is.
Travelling to Giresun is done mainly by the road that is the highway. But it is one you will never regret doing for the natural beauty along the winding way by the coastal region, that you get to see on the way is one of the best scenes you will see in Giresun. The highway is a state highway that is well maintained so your drive promises to be a pleasant one. However if you travel by a cruise then Giresun Port has five quays that you could avail of.
For your knowledge, the Japanese city of Saga has declared Giresun as its twin city regarding cherry production, and a wonderful visit to the province of cherries is what is wished for.
History of Giresun
The city's history really goes back to about 2nd century BCE, when Greek colonists from Sinope established themselves there. Byzantine and Turkish influence on many buildings also indicate its being under their rule as well. But the most astounding discovery is that this island may have been a popular haunt of the Amazonians, the remnants of which are visible to this day in the form of sacred fertility rites that are still performed. But now it is observed as a Muslim practice rather than a Pagan festival.