Golden Horn (Halic)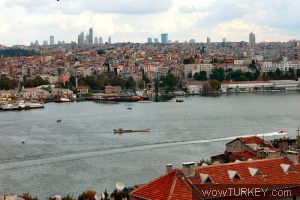 Jason of the Argonauts found his Golden Fleece here. Golden Horn or Halic (pronounced hah-LEECH in Turkish meaning a body of water that divides) is a horn shaped estuary that bifurcates the European side of Istanbul. The aquamarine water of the Sea of Marmara form a peninsula with the estuary, which in turn shapes one of the best-known natural harbors in the world.

Hub of commercial activity in the Ancient World (it had been the eye of business in the Byzantine and the Ottoman empire), Halic lost its dazzle for a while, but has once again caught the attention of the world. An exotic past that satisfies the most puritan of cultural mavens, a landscape dotted with architectural gems, delectable variety of seafood that acts like a sweetheart with palates of every origin, scenic beauty that is a blessing to the eye- Golden Horn is a traveler's delight.

Some say that it is the myth. Some say that it is the gold of the empires. Others point out to the school of fishes swimming the Horn surface and the sliver of gold that they catch from the evening sun. It may not be possible to know the origin of the name accurately but one is bound to forget the debate and everything else besides when the sun sets on the Golden Horn.

A Golden Horn sunset is reputed to be a lifetime affair. The water sparkles with a rich yellow that takes on a life of its own. The glow of the gold in the air and water is supposed to touch the hearts of people who watch it. Tourist lore assuming the proportion of an urban legend says that those who fall in love on a Golden Horn evening always stays together. Always.