Kirikkale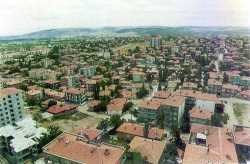 80 kilometers east of the city of Ankara and to the east of the Kizil River lies the city of Kirikkale. Kirikkale is famous for its steel mills and has one of the largest productions of high quality alloy steel. Rich in history and culture as well, this ancient city has the best of both worlds.

Kirikkale gets its name from two words, 'Kirik', a village not far from the modern day city of Kirikkale, and 'Kale' from the name of a hill situated within Kirikkale's vicinity. The earliest mention of the name of this city appears in the Turkish historical records in the 16th and 17th centuries when it is said that an Eastern Turkey tribe called the 'Oguz-Oguzhan' arrives to settle in this place then known as 'Kirikkal'a'.

Kirikkale is best accessed by rail from Istanbul, Diyarbakir or Ankara on the Eastern Express.