Kirsehir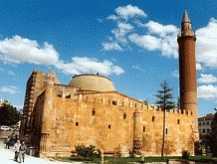 Kirsehir city, the capital of the Kirsehir Province in Central Anatolia in Turkey is situated at a height of 985 meters above sea level. Rivers, mountains and wild forest areas make this enchanting place a favorite amongst tourists visiting Turkey. An extreme climate and a history that is almost hard to trace lends it an air of mystery undeniable by no one.

Kirsehir is well connected linked by road and rail to the rest of Turkey, but it is certainly easier if you try to access it from the Anatolian cites. For it is at a distance of 145 kilometers from Ankara, 80 kilometers from Nevsehir and 150 kilometers from Kayseri.

Kirsehir is supposed to have been settled in since 3000 BC and had been consequently ruled by Assyrians, Hittites, Persians, Greeks, Romans, Byzantines, Seljiuks, Mongolians, ultimately falling in the hands of the Ottoman.

Food at Kirsehir consists of the usual Turkish kebab, but try out the local delicacy of 'keskef' for a real taste of the place. For souvenirs to take back home, hand made products made of onyx is certainly a good buy.