Kurban Bayrami (The Festival of Sacrifice)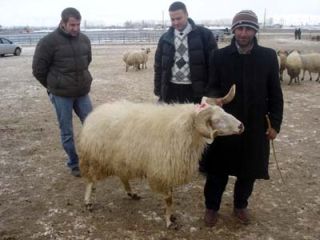 Kurban Bayram (the Festival of Sacrifice) is the most important religious festival of the year and a four day holiday in Turkey. It falls on November 27th 2009 (estimated).

This is a four-day festival when sacrificial sheep or other animals are slaughtered and the meat distributed to the poor, in memory of the ram sacrificed by Abraham in place of his son. According to Islamic rules, every Muslim who is wealthy enough must sacrifice a farm animal for God. The meat from the animal is then shared – one third saved for the household, one third shared between friends and neighbours and the final third given to the poor.

Beware if you are squeamish however. While the Turkish government has recently made it illegal to sacrifice the animals in public places such as playgrounds and parks – advocating professional abattoirs instead – this is not always enforced. You can therefore see people slaughtering sheep, goats, even cows, in gardens, streets, backyards and even on balconies during the festival, mostly on the first day. They then cut up the animal in full view for the ritual sharing of the meat.

There are strict rules on eligibility for sacrifice – the animals have to be at least one year old and in good health. You will see a build up of sheep near town in the days before the festival as their owners bring them down ready to be sold. In recent years some families have begun to make charitable donations instead of the sacrifice.

Many shops, banks and businesses may be closed for the duration of the festival. Supermarkets usually remain open but on restricted hours. Travel is also hectic at this time, as people visit friends and relatives to celebrate. This is also the time of the annual pilgrimage to Mecca so both international and domestic travel is intense. Try not to travel at the beginning and the end of the festival and make sure you have enough money to tide you over in case the ATMs run out of cash.