Kusadasi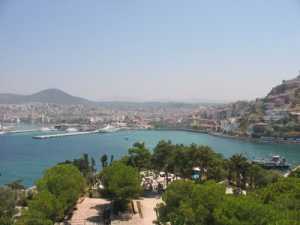 Located in the Aegean region of Turkey, Kusadasi or the bird island is a visually magnificent and ideal spot for vacation. Like a beautiful painting, Kusadasi boasts of a flamboyancy, which is contributed by the clear blue water, accompanied by expanses of sandy beaches and a bright summer sun.

With the glorious historical city of Ephesus standing beside it, the town of Kusadasi is a heady blend of the ancient and the aesthetic and thus proves to be an invincible attraction for travelers from all over the world. An earthy appeal, inexpensive Turkish cuisines, numerous holiday villages and hotels and the alluring "Turkish Nights" - what more can one ask for a summer travel?

Kusadasi is an ideal destination for a memorable summer vacation and it will not be too much to say that once you get here your departure might get delayed forever.