Oludeniz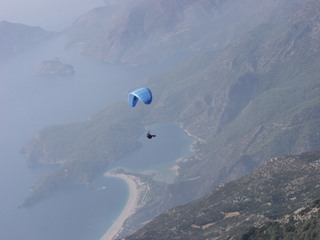 Ölüdeniz means the "dead sea" in Turkish, but do not confuse it with the one in Israel. Situated in near Fethiye in Turkey it is a lake consisting both sea and lake water. It is a lagoon that has a sheltered location at the base of the Baba Dagi Mountains and surrounded by pine forests. The mesmerizing combination of sand and pebble beach and turquoise blue waters perhaps make Oludeniz the most famous and most photographed beach in Turkey. No wonder, that this place has been selected as a National Park. In addition, with its increasing popularity amongst tourists this calm water body and its surroundings has been converted into a beautiful holiday resort.

The Lycian Way, the longest (500km) road in Turkey from Fethiye to Antalya also passes through Oludeniz.

Oludeniz can give you both great tan to show off as well as scintillating beauty to treat your eyes. You could decide the one you prefer, or maybe something better.