Olympos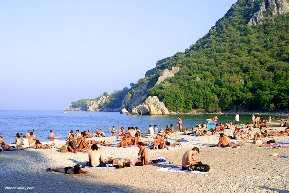 The ancient and remote city of Olympos - with its picture-perfect scenic beauty, natural wonders and mystifying history is an irresistible vacation destination in Turkey. Set in the tempting Mediterranean clime, Olympos has everything to tempt all kinds of visitors.

Its location amidst a national park area surrounded by hills and spread on either sides of a tranquil stream, proximity to a naturally formed beach and a Chanpaigne climate makes Olympos the choice of those who look for a relaxing holiday. Olympos's extended past, shrouded partly in mystery and partly under the dense woodland makes for a charming journey into the historic times.

Though motley crowds flock to the region throughout the year, the ideal visiting-time to Olympos is either between April and June (in Spring-time) or in September-October (in Autumn).