Pamukkale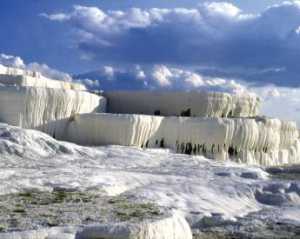 Pamukkale is the main attraction of the Aegean region of Turkey. The city is blessed with breath taking beauty formed of curious calcium deposits. Tourists from around the globe throng to Pamukkale to witness the natural marvel that is unique to the city. The present name of the city literally means "cotton castle" and is justly named after its exquisite limestone landscapes.

Pamukkale also has a spell binding historical past. The erstwhile name of the city is Hierapolis and remnants of the past make it a treasure trove of archeological wealth. Today, Pamukkale is a coveted site for all vacationers and is strewn with luxury hotels and resorts. Going around the city is very convenient with privately hired taxis or the collective taxis called Dolmus.

Pamukkale has a unique experience to offer. It is a must see for every tourist from around the globe.