Aegean Region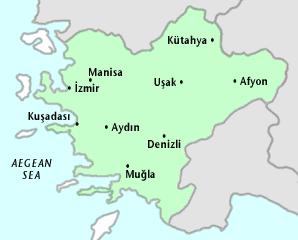 The Aegean Region with its lovely scenery and setting is indeed a natural paradise. The breathtaking coastline with its stretching pristine beaches being continually bathed by the azure water of the Aegean Sea and surrounded by olive groves and craggy cliffs mesmerizes all.

A popular tourist attraction, the Aegean region promises some or the other activity for everyone. While the archeologists can explore the remains of a 5000-year old ancient civilization, the Nature lovers and photographers can have their full satisfaction in the form of picturesque surroundings and lovely landscapes. With the water-body around, there is no dearth of activity for the sailors and sports-enthusiasts.

The exceptionally mild climate of the Aegean region - pleasant, verdant Springs, hot Summers, sunny Autumns and cozy Winters with light rainfall - ushers in an invitation for the travelers throughout the year. A Summer-visit to this region will be ideal for the fun-loving spirits; Spring and Autumn are best for exploring the inner terrains, though Winter too is not to be left behind.

Accessibility to the region has been highly widened. Izmir, the gateway to the region, is very well connected. From Istanbul, it is just a 45 minutes journey to Izmir. If you decide on taking a bus-ride, you can opt for overnight buses (that take only 8 hours). Train connections are available if you happen to travel across the Marmara Sea. Overnight night car ferries run between Istanbul and Izmir.

Those who do not feel like missing the comfort of their own cars can take the Bursa or Canakkale coastal highway. The Dalaman airport with its fleet of scheduled and charter airlines, will be perfect for those who want to start their journey from down South.

The Aegean region has ample accommodation facilities that assure services compliant with the tastes and price range the tourists look for.