Central Anatolian Region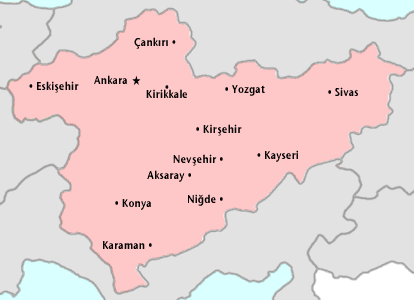 The Central Anatolian Region (also known as the Anatolian Plateau) is an area of diverse landforms. The dry, arid highlands of Anatolia lie between the two zones of folded mountains (the Taurus and the Northern Anatolian mountain ranges) and extend to the east to the point where the mountain ranges converge. The rise or elevation of the highland averages to around 500 meters. The two large basins - Konya Ovasi and Tuz Gölü (Salt Lake) - have their own inland drainage.

The northwestern and northeastern parts of the region comprise the woods or forestland. Agriculture is practiced in the river valleys; however, mostly the rivers run through deep trenches without forming wide adjoining valleys, making proper irrigation a near impossibility.

Limited rainfall, extreme heat and heavy snowfall make the region unfit for cultivation. Designated as the grazing land of Turkey, the importance of the Central Anatolian Region comes from the fact that it includes the capital city Ankara.