Marmara Region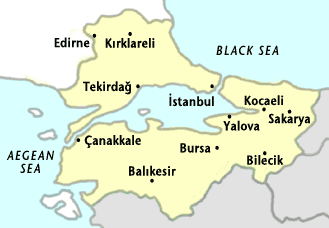 The Marmara region, occupying the northwestern corner of the country, bridges Asia and Europe. The most populated part of Turkey, its relevance in history as well as in the contemporary world, marks it as a "cannot miss" place-to-be in the traveler's itinerary.

The famous city of Istanbul still standing in all its grandeur - equally mystifying in its natural beauty and historic glory - is a part of the Marmara region. Other such prominent cities that make it to the traveler's schedule are the ancient cities of Bursa, Edrine and Iznik. While Edrine is located in the European part of Turkey, "Green" Bursa is located at the foot of Mount Uludag and derives its name from the dense forest cover. Thrace, with its lush vineyards and extended sunflower plantations is another place or great scenic beauty.

Uludag, being one of the main peaks of Turkey, is a chief attraction of this region. Mt. Uludag region houses some very popular ski-resorts (that provide the tourists with convenient services and skiing equipments). This area is most frequented in Winter, when it snows. The National Park of "Kus Cenneti" (Bird Paradise) - a bird sanctuary, a safe haven for over two thousand species of birds is a part of the Marmara region.

A strong Industrial belt, housing some of the nation's foremost industries, the Marmara region is also famous for its fruit cultivation.