Rize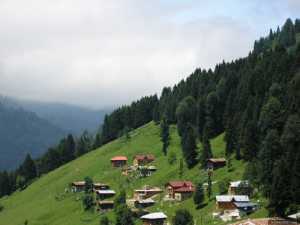 Rize is a small town at the foothills of the northeastern part of Turkey. It enjoys a status of being the capital of the Rize Province.
Geographical Location
Rize is situated on hills surrendering itself down to the sea. Rize is linked with Trabzon by road, which is 41 miles west and with Hopa, which is 55 miles East. The important cities of Rize include Trabzon, Gumushane, Bayburt, Erzurum and Artvin. Rize comprises 32 provinces with lovely bird watching spots. It ranges from an altitude of 0m to 3932m.

Climate
Rize enjoys and experiences a mild climate with sunny summers mild winters. As a result of this ideal type of climate Rize enjoys plentiful and prosperous natural vegetation.

Economical Status
The basic economical structure of Rize rests upon the processing and sea shipping of tea. Rize is well known for its Tea Research Institute, which was originally established in 1958. Rize greets you with miles of tea plantation. Throughout the year, Rize produces about one million raw tones of tea. Fishing is the second main occupation of the people of Rize.

History
Formerly Rize was known by the name of Rhizaeum during the reign of Procopius, Peri Ton Polemon, VIII and II. In 1923 the major Christian population of Rize left the town to settle down elsewhere. Irrespective of its size, Rize holds a significant position as the major tea producing, processing and packing center in Turkey.

Population Of Rize
Around 370,000 inhabitants have made this significant town of Turkey their domain. Most of the people of Rize are adventurous and they are tremendously enthusiastic about sea-based activities.