Summer Vacation in Turkey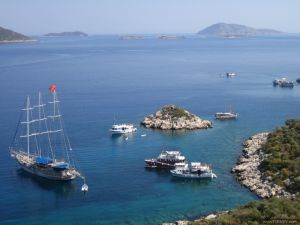 Turkey is a great destination for summer vacations, preferred by many holiday lovers. Although five out of seven of Turkey's climatic regions are quite hot and rainless in summers, it is cool in the inlands. Turkish summers lasts from mid-June to mid-September.

A summer vacation in Turkey is an opportunity to watch events and festivals that take place during this time of the year. You can watch the Marmaris Yacht Show in May; the Marmaris Festival in June; Aspendos Opera Festival in June; Butterfly Valley, from July to September; Antalya Film Festival in September.

Turkey is a great place to go alone, or with your family for a vacation. It has something of interest for everyone. The locals are friendly and hospitable. Restaurants are open till late where you find whole families dining. The well known resorts have kid's clubs to keep children entertained and happy. So, do not miss this wonderful opportunity of a summer vacation in Turkey.