Turkish Airlines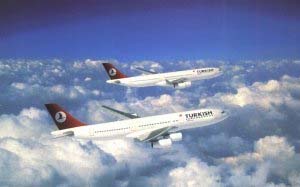 Turkey is quite attractive as a holiday destination because of its easy reach by air from anywhere in the world. You must remember that Turkey is a large country and you would ideally like to see as much of it as possible. Air travel is therefore advised for convenience and to cut down on travel costs.

Apart from the national carriers of Turkey like Turkish Airlines, other airlines like Alitalia, Air France, British Airways, KLM, Lufthansa, Olympic, SAS etc. all have regular flights to Turkey. Within Turkey, air travel is easy as you have a variety of airlines to choose from according to your schedule and budget.

Whether you make your reservations yourself or with the help of a travel agent, air travel in Turkey is convenient. It is comfortable, fast, and gives good value for money. As long as Turkish Airlines are there, traveling to and within Turkey should be the least of your worries.