Touristic Tips on What To See in Istanbul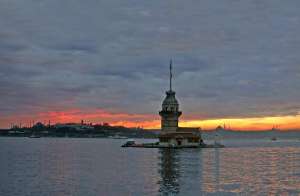 Istanbul is a huge city, so it is simply impossible to explore it during a few days. So do not try to embrace the unbounded. Just do 10 things we advise you. This is quite enough to get acquainted with Istanbul. So...
1. Take a trip along the Bosphorus
This is the most important part of the program. Bosphorus is Istanbul's main attraction. Choose a European waterfront or Asian (Babylon street) and go ahead. Only after Bosphorus trip you will understand why it means so much to the Turks.
2. Visit Hagia Sophia
This is the most important temple of Constantinople. Just look at the Empress Zoe mosaics, admire the temple´s dome, rising on the second and third levels. Besides, there are lots of city hotels near
Hagia Sophia
.
3. Climb the Galata Tower
There are two ways to have a bird's-eye view of Istanbul. The first one is to become a bird - unfortunately, it is impossible. The second, the real one - to climb the 61-meter Galata Tower and see the WHOLE Istanbul.
4. Eat fish kebab
The most famous food in Istanbul is fish kebab. Fresh fish, fried in your presence, with lettuce, onions and tomatoes in a huge loaf of fresh bread. We recommend eating fish kebab in front of the Bosphorus.
5. Use a tram
Use a small tram, which runs along the pedestrian Istiklal street, warning passers-by with the old signal rattling. This is Europe of the early twenties, with its charm and atmosphere which has disappeared from everywhere, except Istanbul.
6. Visit the Zoo
Istanbul Zoo is located in Asian side. It will take you about an hour to reach it. But it's worth it! Istanbul Zoo is really stunning and rich!
7. Dine at Yerebatan
Yerebatan underground reservoir amazes with its marble columns, majestic music, its size and atmosphere. The most memorable dinner in Istanbul can be held here, directly on the jetty over the splashing carps in the water. Order to cook one of them and treat yourself to a stunning evening.